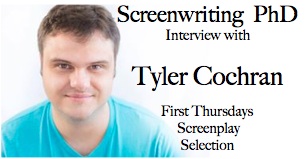 How did you come about to be in the film industry?
I started by participating in student films as an undergrad at TCU. I'm currently a doctoral student at UT Dallas where I'm studying film and theatre. While I've primarily been a stage actor, I've also created some short film that screened at local festivals in DFW along with some voiceover work for FUNimation.
Who are the filmmakers who have influenced your work & in what way?
Local filmmakers are people that inspire me. Budget and time constraints are always a challenge, but they still find a way to use their connections and resources to create art. Todd Camp is one of the co-founders of QCinema, Fort Worth's LGBT Film Festival that is currently in its 20th year. One of my short films debuted there and anyone who is a champion of diversity is a huge influence in my book.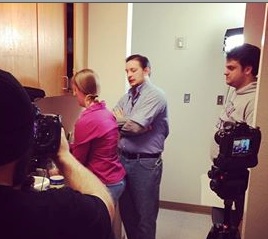 On set while creating the short film,
"I love you, but you're Creepy"
What skills are needed in writing for film or film making that are different than other careers/jobs you have pursued?
The only limit is your imagination. Instead of just thinking that you have a good idea for a film, go ahead and make it a reality. The best way to become a better screenwriter is to see as much film as possible. The writing process is like other industries such as PR where you must define your audience and create a cohesive vision as part of a team.
How have films changed since you have been in the film industry?
I'm happy to say that there are several new festivals cropping up in DFW, but social media has changed the industry more than anything. While I'm glad to see artists use it as a promotion platform, I still believe seeing your work on that big screen at a theater is an experience you can't forget.
What did you try to achieve in your latest work?
The Poor Man's Agent is a screenplay that attempts to blend a film noir detective drama with a modern comedic sensibility. I love the blending of genres so hopefully once I make it into a film it will be a funny and demented blend of old and new.
What do you feel is the future of film making?
As I mentioned earlier, social media is constantly changing the world of film, especially through YouTube. I think we will see more online-only festivals, but I still hope filmmakers will champion local groups because inner personal communication is certainly a dying art form.
What advice would you give one who is entering the writing/film making world?
Educate yourself! See as much film as you can. Consider studying it in college and try to participate in local film productions as often as possible even if you are just volunteering. Building up your resume now will pay off in the future.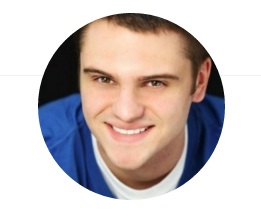 Actor, Writer, Director, Adjunct Professor, Advertising Consultant Tyler Cochran
What advice would you give yourself back when you were starting out in the film industry?
I just wish I had gotten involved sooner. I didn't discover theatre until my senior year of high school and I feel like that is what sparked my creative interests. Everyone has a creative side, I just wish I had discovered mine sooner.
What did you learn about yourself by being in this industry?
I am optimistically pessimistic meaning nothing will stop me from bringing an idea to life. Even though the process can be frustrating at times, keeping a sarcastic sense of humor helps to ease the pain.
Anything you want to add that I haven't asked about?
I just wish there were more organizations like yours! Any opportunity to talk about what I'm working on is a privilege so thank you.
Why thank YOU, Tyler!