First Thursday: October 6, 2016
Well, this was perfect timing...! This month's festival just happened to coincide with the Bastrop High School Homecoming parade, which not only takes place on the football field during the big game, but also is a big event down Main Street...!
All of the film makers and audience were treated to some real razzle-dazzle before the films got started...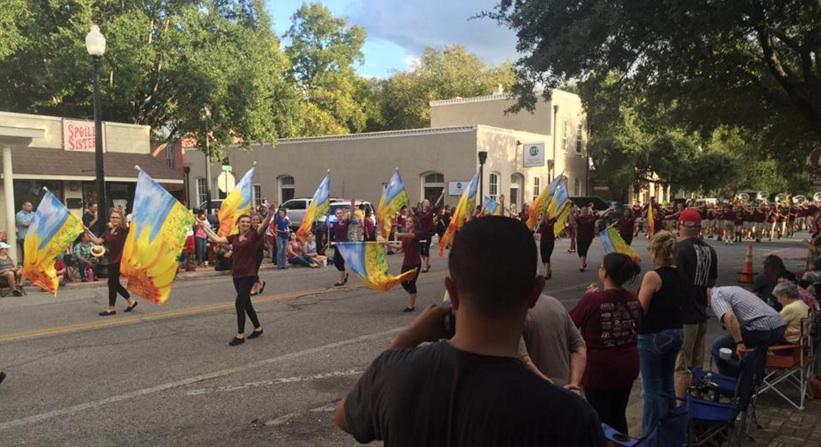 We started this month's festival with a nifty little clip that shows the history of special effects starting from the 1900 film The Enchanted Drawing and showed the progress and evolution of techniques all the way up into the 21st Century: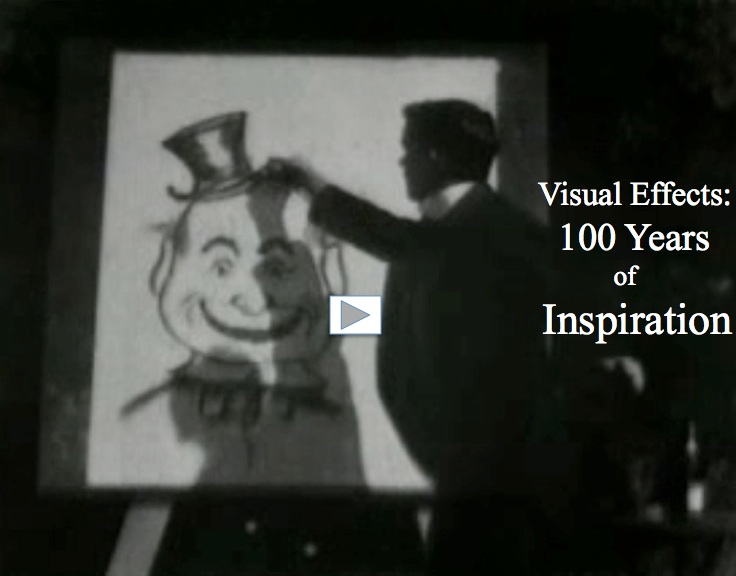 Click on the image above to see the film
We also liked the music in the above clip, which by the way, is done by the Blue Man Group which you can probably see in Las Vegas next time you're there...

Keeping the theme of Special Effects, our next short had some cutting edge elements of VFX, however at the end we saw that this was actually a 'set up' for the twist ending, which we are sure you all will enjoy in The New Politics (and w
ell, we all got a chuckle out of this one too...!)
Click on the image above to see the film
No SKYPE session need on the next one, for driving all the way from Midland Texas was Manuel Obregon with his documentary short Tedrick MMA, giving us a glimpse into the life of a world-class MMA fighter from Midland.
We thought this was a perfect blend of documentary/fundraiser so that you not only learned about Tedrick, but saw what he was up against competition-wise, what was needed to go on in the sport, and what his goals were, check it out here:
Click on the image above to see the film
After viewing Manuel's documentary, the audience was treated to one of the best Q&A sessions we've ever had here in Bastrop, which shows that our man from Midland really made an impression with his portrayal of Tedrick, as a fighter, and as a person.
Certainly many in audience during the discussion were not only wanting to know more about Tedrick's trials and tribulations, but Manuel's life as well!

Way to please the crowd, Manuel...!
Actually Manuel has some very interesting experiences to share, having been at art assistant in Los Angeles, as well as being a production assistance for WTIC in Midland, working on such shows as the West Texas Investor's Club besides being and extra, doing pre-production, and even lighting...
well....sounds like a good prep for being into independent films, doesn't it...?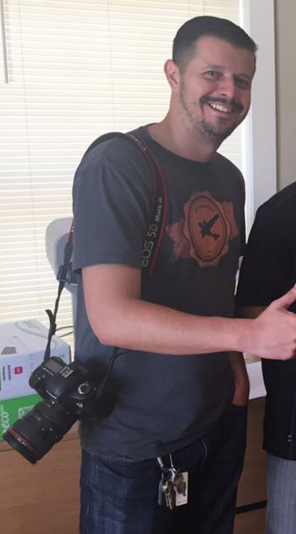 Manuel Obregon knows how to have fun, and get a discussion going with the audience on films, documentaries, and the film industry.
Next up we moved into a very serious theme that was very interesting due to the origin of the film: Iran (so yes, the dialogue is in Farsi) and the film "Two plus two equals five". With some hints into the Orwellian processes controlling society and manipulation of among other things - math facts - this powerful film by writer/director/producer Babak Anvari
shows us all that they are dealing with these very issues in their own society as well:
Click on the image above to see the film
Staying with the "keeping it real" realm of things going on in our world, our next film really moved people, and the way it really impacted people is perhaps one of the reasons that it has won countless awards & is only halfway through its festival run.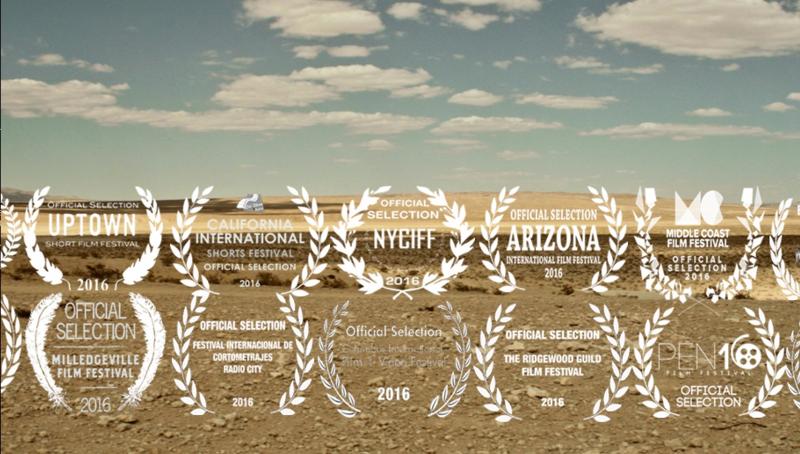 Click on the image above to see the Trailer
SKYPE Session - Skinner Meyers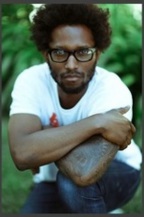 Using his personal experience as a child growing up in Mexico, Skinner Myers has taken several stories to illustrate various sides of the immigration issue.
We were honored to have Skinner take time to talk with the audience about his sixth film: La Tierra Del Exodo (the Land of Exodus) which totally moved our audience, and will certainly do so for you, whether you see it on the big or small screen.
It's a powerful story offering a different perspective on a hot issue as a Mexican street kid leads a kidnapped American boy across the border.
More we cannot say or we'll be spoilers, and while we only have the trailer here, watch for it when it comes out...this film is certainly a 'must see'....
...and let us repeat that....this film is a MUST SEE.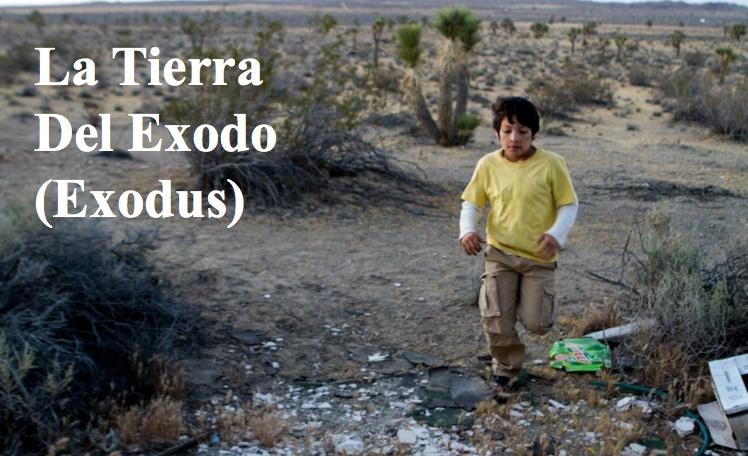 Overcoming a multitude of issues in filming this gem (extras getting lost in the desert, camera house giving the lens they rented to another production, hotels with last minute plumbing problems having the crew look for 15 rooms at the last minute)...you know film stuff. But we are so glad that he got this one in the can, and are waiting for the feature version of this to some out soon....!
Next, we added a different twist to the premise of the Father/Daughter Film Report, which basically having two members of a family several generations apart AGREE that a film has a "WOW!" factor & is socially significant.
While we both agreed we liked a film, Amanda got to choose one I didn't think the audience was ready for, and I choose one to show that she didn't think the audience was up to handle.
The results were quite interesting, here's what happened: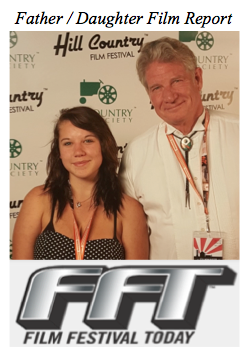 Daughter thought the audience would not be ready to see Seth, Dad thought it was OK, we both liked it, but first, see how you feel about the film for yourself: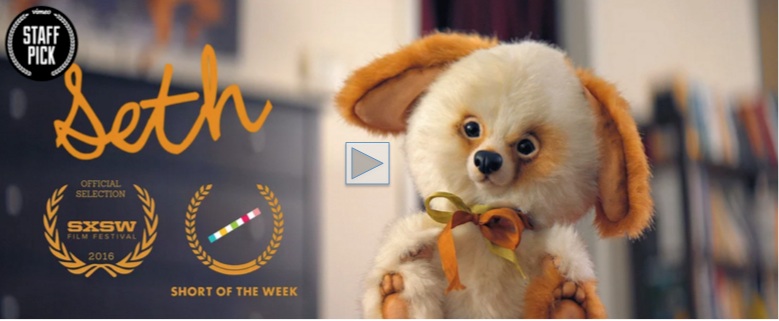 Click on the image above to see the film
Dad thought the audience would not be ready to see Interesting Ball, Daughter thought it was OK, we both loved it - and we warn you, this is a weird one, gets even stranger, but ends up being VERY profound, however, again, see how you feel about the film for yourself: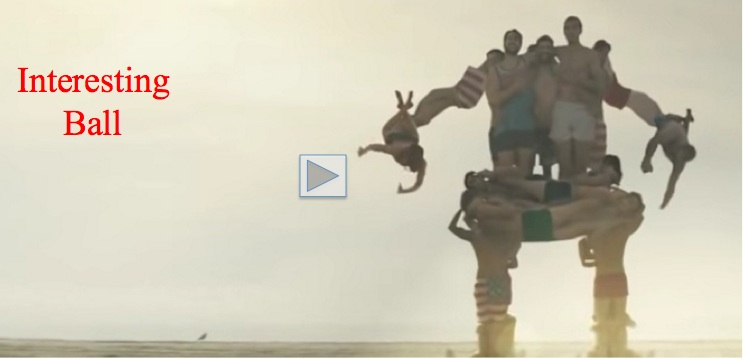 Click on the image above to see the film
Well, we can certainly say of all the short films we presented tonight, Interesting Ball was certainly the one that was most talked about. It was interesting(!) how everyone saw a different meaning to all of the stories - separately or when viewed as a whole - and many said this was one they wanted to see again (some said they will need to watch several times...or maybe they just want to...)

Well, we weren't run out of town or anything, so we assume this movie just made people think rather than taking offense to anything you might see in it. And to honor the requests of all those who wanted to see it again, and understand it more, we are happy to announce that we will SKYPE in the Daniels when we show it again next month on November 3, 2016...might be worth the trip to Bastrop to see that....
* * * FEATURE FILM OF THE EVENING * * *
In our debut show on September 1, 2016, we SKYPED in Walker Haynes who introduced his trailer for Hamlet's Ghost, and when we mentioned we'd love to have him come in person when we do the Texas premiere, he said:

"Sure, why not...?"
Well, we were pleasantly surprised, and thanks to Sarah O'Brien at Bastrop's Main Street Program, we made it happen! Well, fun was had by all, Walker have a few days out of the hectic LA film world (he wants to come back with his family soon), the audience got to hear all about his experiences making the film and working on shows like CSI:NY, and as mentioned earlier, we got to see the Bastrop High School Marching band and all kinds of floats in the Homecoming Parade...!
So it was fun for everyone in Bastrop on a First Thursday at Viejo's...!
Hamlet's Ghost is a time-travel thriller which stars Glen Mac (Law & Order, Inforgettable), Creagen Dow (Big Bang Theory, CSI: NY, Numb3rs, Zoey 101), Stephanie Zimbalist (Remington Stelle, Judging Amy, Nash Bridges), Ida Anderson (Greg's Anatomy, Hawaii, Lovesick), John Loprieno (As the World Turns, One Life to Live, Search for Tomorrow), & Barbara Niven (Chesapeake Shores, Cedar Cove, Eli Stone)....to name a few.
Walker Haynes (Samuel Adams, CSI: NY) not only writes & directs, but gives a stunning performance as the time traveling actor…
Yes, you've all seen lots time travel movies, but not one as refreshing as this in how the paradox is in play, which is revealed at a perfect pace.
Make sure you see it when it comes to a theater or on-demand or however it comes out near you...it will be very easy to see why this won Best Sci-Fi Feature at Twister Alley, and is racking up similar awards all over the globe... including from the Father/Daughter Film Report...!
Besides everyone having a blast...we also learned that Hollywood and Bastrop make a pretty good team in getting great films shown in Texas....!